[vc_row][vc_column][vc_column_text]Need help with the site? Your question may already be answered! Read below for further information.[/vc_column_text][/vc_column][/vc_row][vc_row][vc_column][vc_separator][/vc_column][/vc_row][vc_row][vc_column][vc_toggle title="Do you take commissions? Are you available for hire?" el_id="1498300857465-f03a7ae5-629c"] Most of our artists are not currently taking commissions (Miu's are closed indefinitely). Our figure and jewelry sculptor is currently available to schedule for collaborative and for-hire projects. More information coming soon. Contact her for more details.[/vc_toggle][vc_toggle title="What do "In stock (can be backordered)" and "Available on backorder" mean? How are these different from "In stock"?" el_id="1498300857587-d4b47b85-e7f4″]Items that are marked "In stock (can be backordered)" or "Available on backorder" indicate items that have more stock in-hand that need to be shipped to the fulfillment center, or items that are actively being reprinted.
Items that are only marked "In stock" are limited production items and will not be reprinted or restocked once inventory runs out (unless additional quantities are located, like in a mislabeled stock box).[/vc_toggle][vc_toggle title="How do you ship my order?" el_id="1498300857649-da7e107f-384a"]Shipping is generally via USPS for both USA and international shipments. If you need special shipping arrangements, please notify me in the order notes at checkout, or contact me ASAP.[/vc_toggle][vc_toggle title="When will my order ship?" el_id="1498300857526-177a81ab-c64f"]An order consisting of only in-stock items will generally ship in two business days or less (Monday through Friday only).
An order containing backordered items is subject to an additional delay of approximately 3-5 business days, because I need to ship the items to the fulfillment center.[/vc_toggle][vc_toggle title="What kind of payment methods are available? " el_id="1498300857705-d3d7ac67-467c"]The store currently accepts Paypal. You can also pay with your credit card through Paypal even if you don't have a PayPal account. Adult digital downloads can be purchased with a credit card via CCBill. Paypal's rules do not allow the sale of adult-oriented digital products through their payment service so please purchase adult digital downloads in a separate transaction from the other products in the store.[/vc_toggle][vc_toggle title="Why are there "no available payment methods for your state"?" el_id="1502228068067-b07cccf3-9d5f"]You will get this error message if you have adult digital goods in your shopping cart with items from other categories. The site is set up to prevent users from using Paypal to purchase adult digital goods, as Paypal does not permit the sale of adult digital goods through their service. Please purchase adult digital goods in a separate transaction.[/vc_toggle][vc_toggle title="I've bought digital goods. How do I download them?" el_id="1504868187863-10d66995-4d8f"]After a successful checkout, you will be brought to the order confirmation screen. A link is available under each digital purchase for downloading your items. Click the link to download.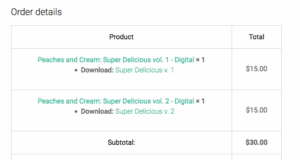 These links are also available in the confirmation email sent to you, and if you have created an account on the site, you can also access your order information there.
[/vc_toggle][vc_toggle title="I'd like to be a reseller of your products. How can I do that?" el_id="1499863243769-ff1c374e-675d"]Contact me for more information. Wholesale buyers are required to have an active website or social media presence, and must make a minimum purchase of $200 (not including shipping) per order. Wholesale pricing is only available on books (Adult/General) and full-color figures. Folios, posters, and other limited items are not included in wholesale pricing.[/vc_toggle][/vc_column][/vc_row]